Half-speed mastered version of the album, housed in the original jacket with a printed sleeve and pressed on 180gm black vinyl. This has been cut at Abbey Road Mastering Studios by acclaimed engineer Miles Showell from tapes prepared by Jon Astley.

The Remastered albums are available in the following formats: Limited Edition Super Deluxe 10CD/Blu-ray, Deluxe 2CD, CD, LP, Limited Edition Deluxe 4LP, Indie Exclusive Limited Edition Coke Bottle Clear LP, Half Speed LP
Formats and Editions
1. Baba O'Riley [WHO'S NEXT: Remastered]
2. Bargain [WHO'S NEXT: Remastered]
3. Love Ain't for Keeping [WHO'S NEXT: Remastered]
4. My Wife [WHO'S NEXT: Remastered]
5. The Song Is Over [WHO'S NEXT: Remastered]
6. Getting In Tune [WHO'S NEXT: Remastered]
7. Going Mobile [WHO'S NEXT: Remastered]
8. Behind Blue Eyes [WHO'S NEXT: Remastered]
9. Won't Get Fooled Again [WHO'S NEXT: Remastered]
More Info:
Half-speed mastered version of the album, housed in the original jacket with a printed sleeve and pressed on 180gm black vinyl. This has been cut at Abbey Road Mastering Studios by acclaimed engineer Miles Showell from tapes prepared by Jon Astley.

The Remastered albums are available in the following formats: Limited Edition Super Deluxe 10CD/Blu-ray, Deluxe 2CD, CD, LP, Limited Edition Deluxe 4LP, Indie Exclusive Limited Edition Coke Bottle Clear LP, Half Speed LP
Reviews: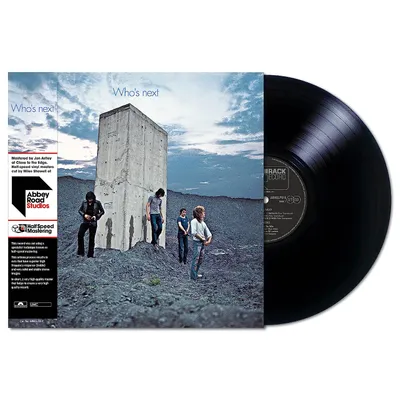 Promotions
THE WHO - Free Double Sided Poster
The Who's classic album Who's Next has been remastered and now you can remaster your wall by picking up this FREE DOUBLE SIDED POSTER when you buy your copy of Who's Next | Life House.

IN STORE ORDERS ONLY, WITH PURCHASE WHILE SUPPLIES LAST
The Who's Next | Life House Editions
back to top