Deluxe 2 CD version contains the newly remastered album and a bonus disc of the highlights from the Super Deluxe 10 CD boxset which creates an overview of the album in the form of unreleased and live tracks. Featuring 21 total tracks with 8 previously unreleased tracks and 4 tracks with fresh remixes. The set also contains a 20-page booklet with notes from Andy Neil and photos and memorabilia from the time.

The Remastered albums are available in the following formats: Limited Edition Super Deluxe 10CD/Blu-ray, Deluxe 2CD, CD, LP, Limited Edition Deluxe 4LP, Indie Exclusive Limited Edition Coke Bottle Clear LP, Half Speed LP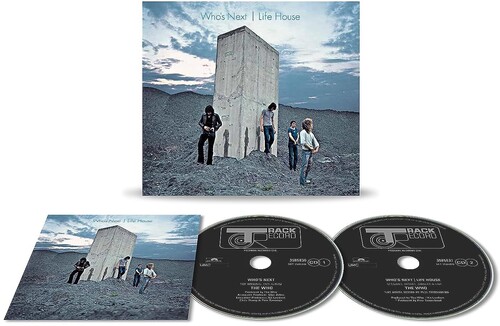 Formats and Editions
1. Baba O'Riley [WHO'S NEXT: Remastered]
2. Bargain [WHO'S NEXT: Remastered]
3. Love Ain't for Keeping [WHO'S NEXT: Remastered]
4. My Wife [WHO'S NEXT: Remastered]
5. The Song Is Over [WHO'S NEXT: Remastered]
6. Getting In Tune [WHO'S NEXT: Remastered]
7. Going Mobile [WHO'S NEXT: Remastered]
8. Behind Blue Eyes [WHO'S NEXT: Remastered]
9. Won't Get Fooled Again [WHO'S NEXT: Remastered]
1. Behind Blue Eyes (Record Plant, NYC Sessions – Version 1) [Take 15, March 16, 1971]**
2. Getting In Tune (Alternate Mix) (Life House Demo)**
3. Mary (Alternate Mix) (Life House Demo)**
4. Love Ain't For Keeping (Record Plant, NYC Sessions) [Take 14, March 17, 1971]*
5. Pure And Easy (Olympic Studios Mix) (Life House Demo)**
6. I Don't Know Myself [Eel Pie Sound Studio – New Unedited Mix]**
7. Too Much of Anything [Original 1971 Vocal]**
8. Time Is Passing (Live at the Young Vic, London – April 26, 1971)*
9. Bargain (Live at the Young Vic, London – April 26, 1971)*
10. My Wife (Live at the Civic Auditorium, San Francisco – December 12, 1971)*
11. Baba O'Riley (Live at the Civic Auditorium, San Francisco – December 12, 1971)**
12. Won't Get Fooled Again (Live at the Civic Auditorium, San Francisco – December 12, 1971)**
More Info:
Deluxe 2 CD version contains the newly remastered album and a bonus disc of the highlights from the Super Deluxe 10 CD boxset which creates an overview of the album in the form of unreleased and live tracks. Featuring 21 total tracks with 8 previously unreleased tracks and 4 tracks with fresh remixes. The set also contains a 20-page booklet with notes from Andy Neil and photos and memorabilia from the time.

The Remastered albums are available in the following formats: Limited Edition Super Deluxe 10CD/Blu-ray, Deluxe 2CD, CD, LP, Limited Edition Deluxe 4LP, Indie Exclusive Limited Edition Coke Bottle Clear LP, Half Speed LP
Reviews:
* Previously released with new remix ** Previously unreleased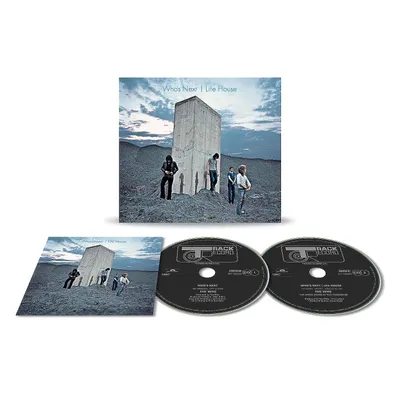 Promotions
THE WHO - Free Double Sided Poster
The Who's classic album Who's Next has been remastered and now you can remaster your wall by picking up this FREE DOUBLE SIDED POSTER when you buy your copy of Who's Next | Life House.

IN STORE ORDERS ONLY, WITH PURCHASE WHILE SUPPLIES LAST
The Who's Next | Life House Editions
back to top